September 12, 2023 6:25 pm
Leave your thoughts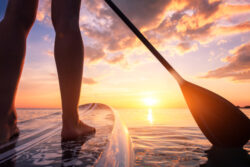 Our expansive resort, Trinity Alps Marina, offers a multitude of family-friendly water activities that will make your summer vacation a memorable one. From paddleboarding to swimming and picnicking, there is an abundance of options for everyone to enjoy. With designated swimming areas, attentive lifeguards, and convenient on-site concessions, Trinity Alps Marina provides everything you need for a fantastic day by the water.
Paddleboarding – A Fun Adventure for the Family
Have you ever wanted to try paddleboarding? Well, look no further! At Trinity Alps Marina, we offer paddleboard rentals for all skill levels. Whether you're a beginner or an experienced paddleboarder, our calm and clear waters provide the perfect environment for a thrilling adventure.
Picture this: You and your family gently gliding across the water, taking in the breathtaking views of the Trinity Alps. The feeling of serenity and freedom as you paddle along is truly unmatched. It's an activity that guarantees fun for all ages, making it an ideal choice for a family outing.
Swimming – Make a Splash and Beat the Heat
When the temperature rises, there's nothing better than a refreshing swim. Trinity Alps Marina boasts designated swimming areas, ensuring a safe and enjoyable experience for everyone. Rest assured that the entire family can enjoy a dip in the crystal-clear waters, free from any worries.
Parents can relax knowing that our lifeguards are always on duty, providing an extra layer of safety. Their vigilant eyes and expertise will give you peace of mind as your little ones splash around and create unforgettable memories. When it comes to swimming at Trinity Alps Marina, fun is the top priority.
Picnicking – A Perfect Combination of Relaxation and Deliciousness
After you've worked up an appetite from all the activities, it's time to indulge in a delightful picnic by the water. Trinity Alps Marina offers beautiful picnic spots with breathtaking views, providing the perfect backdrop for a family meal. Grab a blanket, gather your loved ones, and enjoy a leisurely lunch in nature's embrace.
If you prefer a hassle-free experience, our on-site concessions are always ready to serve you. From mouthwatering burgers to refreshing ice cream treats, there's something for everyone to enjoy. Treat your taste buds to a satisfying meal while you soak in the beauty of the surroundings.
Other Amenities – Convenience at Your Fingertips
At Trinity Alps Marina, we strive to make your experience as convenient as possible. Alongside our family-friendly activities and amenities, we also offer several additional services for your comfort and ease.
If you need any equipment or supplies for your water adventures, our rental shop has you covered. Forgot your sunscreen or need extra towels? No problem! Our well-stocked shop will ensure that you have everything you need for a fun-filled day.
Additionally, our marina provides easy access to boat rentals, so you can explore the beautiful Trinity Lake at your own pace. Grab your fishing gear or simply take a leisurely boat ride and discover hidden coves and secluded spots. The possibilities are endless at Trinity Alps Marina.
Final Thoughts
Trinity Alps Marina is the ultimate destination for a family-friendly vacation filled with water adventures. Whether you're paddleboarding, swimming, or enjoying a picnic by the water, our diverse range of activities ensures that no one is left out.
With designated swimming areas, attentive lifeguards, and convenient on-site concessions, you can focus on creating lifelong memories with your loved ones. So why wait? Splash into fun and embark on an unforgettable journey at Trinity Alps Marina today.
Got Questions? Let Us Help!
Trinity Alps Marina is a family owned and operated company providing a full line of quality marine services and products to Trinity County. In business since 2003, we specialize in affordable houseboat rentals, ski boats, fishing boats, and patio boat rentals. We have a full line of houseboats and fishing vessels and are dedicated to providing our customers with safe, clean and well maintained vessels. We are open seasonally from June through October. See our website or call us today for the the most accurate driving directions.
Categorised in: Trinity Alps Marina
This post was written by admin