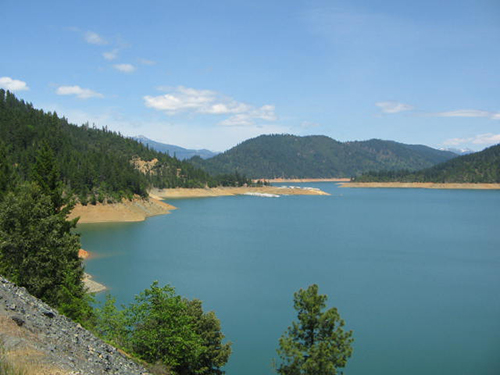 Trinity Lake is located 45 miles northwest of Redding CA, at the base of the Trinity Alp's Wilderness Area the third largest water reservoir in CA. Secluded in the tall pines, cedar and oak trees, Trinity Lake is California's premier hunting, fishing, skiing and house boating area. With 145 miles of beautiful shoreline, waterfalls, creeks and secluded getaway coves you will be amazed at nature's wonders including panoramic views of the Trinity Alp's Peaks and Mt. Shasta.If world-class fishing is your interest Trinity is home to Smallmouth and Largemouth Bass, Rainbow and Brown Trout, Brown Bullhead and White Catfish and Kokanee. Trinity Lake is host to several fishing tournaments each year and has held many records for size of fish. From March 20 1976 – 2008 State record 9lb 1oz smallmouth bass taken near the dam by Tom Brady of Weaverville. Trinity Alp's Marina is located 2 miles past the dam and is the most convenient place for launching, dinner or lunch, gas and groceries, or full-service
boat rentals
.
Items of interest in the area include gold panning in rivers and creeks, animal watching: bears, deer, ducks, eagles, and ospreys are very commonly seen from the lake. Antique shopping in nearby Weaverville and Lewiston, winery tours and tasting, hiking, biking, horseback riding, and trail exploration are some of the most popular attractions, or you can go fishing, kayaking and river rafting in the Trinity River.
Check In Time between 2pm -4:00pm
Upon arrival you will FIRST, pull into the parking lot and park in a designated space. Second you will want the person in your party responsible for booking to proceed to the main office located in the first building that you passed on the way in. This is where you will begin the check in procedure; you will pay any remaining balance and the required security deposit at this time. Also you will receive your assigned parking spot and parking permits, instructions on which boat you will be boarding and an approximate boarding time. Boats will be available for boarding from 2pm to 4:30 pm. The reason for this is that the boats are out prior to your trip and we have to have time to Service, Clean, and Inspected thoroughly before you are cleared to board. While waiting for your boat to become available you may remain parked in the public lot, you may launch any private vessels, you may wait in restaurant area YOU MAY NOT block roadways, launch ramps, parking stalls, access roads or any delivery/maintenance areas or otherwise marked areas.
Check out time by 9am
Departure; on your final morning with us check out time is 9am. You will need to be at our designated area cleaned and unloaded by 9am; late charges will apply at $200 per hr. or fraction of an hour thereof. So please plan accordingly, you must always consider where you will be parked the night before check out so as to not have a long distance to travel the morning of departure. After you have cleaned and unloaded, you will radio the marina dock store and an employee will come to you and drive the boat to the gas dock, DO NOT APPROACH DOCK with boat ever we will bring boats around. Once at the dock we will inspect the vessel thoroughly, fill gas and propane and service the boat. At this time you will be responsible for paying for any damages occurred, outstanding tabs or bills, fuel and any other charges that may occur. Allow at least a hour for check in. After the boat is fully checked out you will precede to the main office to finalize your paperwork and receive your deposit back. Please remember not to block roadways, ramps, entrances or any otherwise marked areas.
Mission Statement
Trinity Alp's Marina is a family-owned and operated company since 2003, providing a full line of marina and quality marine services to Trinity County and surrounding areas including Shasta, Mendocino, Humboldt and Thema Counties. Located on Trinity Lake CA, at the Fairview Marina Launch Ramp just north of Lewiston, CA. Trinity Alps Marina and www.trinityalpsmarina.com goal is to provide quality marina services to the north state including water moorage and boat docks, mechanics and a professional courteous staff to provide service and repairs for Houseboats, Pontoon boats, Ski and Fishing vessels.
Trinity Alps Marina provides a full fleet of rental vessels from fishing boats to luxury houseboats at an affordable rate for the whole family to enjoy. We are dedicated to providing our customers with safe, clean and well-maintained vessels. All vessels are inspected before departure and upon return to guarantee maximum customer satisfaction for a more enjoyable vacation for the whole family.
Our family wants to provide our customers in Lewiston, Weaverville, Trinity County, and Douglas City, CA with a memorable vacation and the best possible value for there vacation dollars. We understand this is a large commitment in family memories and want to work with you to make it fun for the whole family without whipping out the family budget.