September 12, 2023 6:25 pm
Leave your thoughts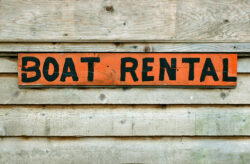 Renting a boat for the first time can be an exciting and unique experience. Whether you're planning a day trip with friends or a romantic getaway with your significant other, there are countless opportunities to make memories on the water. In this blog post, we will explore fun activities that first-time boat renters can enjoy while cruising along the beautiful coastlines or serene lakes.
1. Exploring Hidden Coves and Beaches:
One of the most enjoyable aspects of renting a boat is the ability to discover hidden gems along the shoreline. Pack a picnic and set off on an adventure to find secluded coves or serene beaches that are only accessible by boat. Spend the day swimming, sunbathing, or simply basking in the beauty of these untouched places. Remember to bring a camera to capture the incredible moments and create lasting memories.
2. Fishing Excursions:
For those who love the tranquility and thrill of fishing, renting a boat provides a unique opportunity to explore different fishing spots. Gather your fishing gear and set sail to cast a line in calm waters. Whether you prefer freshwater or saltwater fishing, there are plenty of options for everyone. Catching your dinner or simply enjoying the sport makes for an exciting adventure that will surely be remembered.
3. Water Sports and Fun Activities:
If you're seeking adrenaline-packed adventures, consider participating in water sports while on your boat rental excursion. Options such as water skiing, wakeboarding, and tubing are available for those seeking an energetic and thrilling experience on the water. Get your heart racing as you glide across the waves, competing with friends and family for the best tricks or trying to hold on as you get pulled behind the boat. These activities guarantee laughter, excitement, and unforgettable memories.
4. Sunset Cruises:
Few things rival the beauty of a majestic sunset on the water. Renting a boat for a sunset cruise is a romantic and tranquil activity that will create cherished memories. Picture yourselves gliding along the calm waters, surrounded by vibrant orange and pink hues in the sky as the sun sets over the horizon. Pack some snacks and a bottle of wine to make the experience even more special. Whether it's a romantic getaway or a night out with friends, a sunset cruise is sure to leave a lasting impression.
5. Wildlife Spotting:
Renting a boat provides a unique opportunity to observe marine life and spot wildlife in their natural habitat. From dolphins and seals to various bird species, the ocean or lake ecosystems are home to a variety of fascinating creatures. Bring along a pair of binoculars and a camera with a telephoto lens to capture close-up encounters with these magnificent animals. Spotting wildlife while on a boat is not only thrilling but also educational, allowing you to appreciate and understand the beauty of nature.
Conclusion:
Renting a boat for the first time is an exciting experience that opens up a world of possibilities for creating memorable moments. Whether you choose to explore hidden coves, engage in water sports, or enjoy a picturesque sunset cruise, the options for fun activities are endless. Remember to prioritize safety, respect the environment, and most importantly, enjoy every moment on the water. Happy boating and here's to making memories that will last a lifetime!
Got Questions? Let Us Help!
Trinity Alps Marina is a family owned and operated company providing a full line of quality marine services and products to Trinity County. In business since 2003, we specialize in affordable houseboat rentals, ski boats, fishing boats, and patio boat rentals. We have a full line of houseboats and fishing vessels and are dedicated to providing our customers with safe, clean and well maintained vessels. We are open seasonally from June through October. See our website or call us today for the the most accurate driving directions.
Categorised in: Boat Rental
This post was written by admin